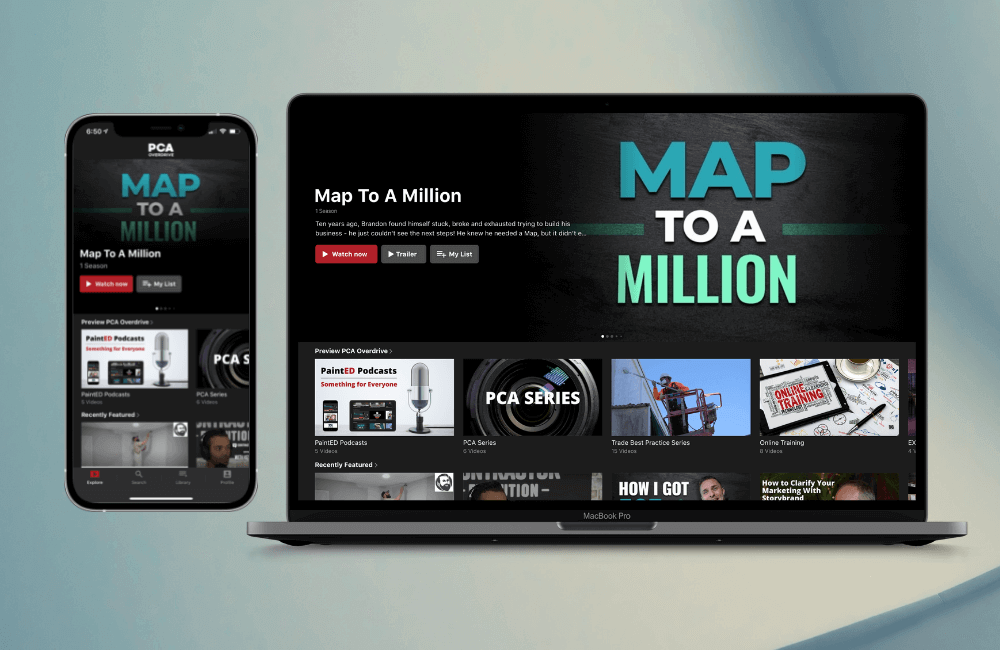 PCA Overdrive – Content When You Need It
The Platform
PCA Overdrive is the streaming service for the painting industry. Our goal is to eventually become the hub of content for the trade. We currently have more than 500 hours of streaming content including – daily podcasts, original series, webinars, panel discussions and other video on demand.
The Backstory
PCA has always produced good content. However, it was difficult to find, access and even playback. This was a sore spot for our members.
As we began to focus more on delivering professionally-produced video content, we realized we needed a platform that was equally as professional and something that was easily navigated. Because PCA Overdrive is available both on the web and as an app, the functionality and portability has solved those issues.
Current Programming
Currently, we have video versions of all our daily podcasts. Yes, we have daily podcasts – even on the weekends! There are a variety of hosts and guests – everything from craftsmanship to business strategies are discussed.
Our docuseries, Business Anatomy, goes inside PCA member companies. You'll learn about their beginnings, and each episode focuses on a specific topic that makes them succeed.
PaintED Talks are designed to inspire and motivate business owners to the next level. Filmed live at our annual event, EXPO, leaders within the industry take the stage to share personal stories, lessons learned and insights on how to become a more well-rounded contractor.
Our Trade Best Practice Series covers everything from prep to brushing and rolling. The 15-episode series, which is in both English and Español, helps new hires understand the basics of painting in order to get them field-ready faster. While the series can also be paired with online assessments on PCA's learning portal, we also host the videos completely free on PCA Overdrive. Since some companies want to use the videos right on the job site or in conjunction with immediate, hands-on learning, it made sense for us to have multiple ways for contractors to engage with this educational series beyond a traditional classroom or office setting.
One of PCA's flagship Facebook LIVE shows, Ask A Painter with Nick Slavik, is also on Overdrive. Additionally, we host a series called Map to a Million, which documents Brandon Vaughn's journey as he grows a painting business from zero to a million dollars in revenue.
Finally, PCA Overdrive has hundreds of webinars and other videos curated over the years. Topics include craftsmanship, safety and training, estimating, recruiting, sales and marketing, productivity, business growth, human resources, and finances. We host at least one live webinar each month, and the replays are made available for those who couldn't attend live.
Access
PCA Overdrive is included with PCA membership. For a nonmember, a subscription to the platform is just $5.99/month after a 7-day free trial.
PCA Overdrive is available on the web and in app form. Just go to the Apple App Store or Google Play Store to download.
Additional Resources
Keep an eye out for our PCA Overdrive Webinar on Tuesday! (Tuesdays with PCA)